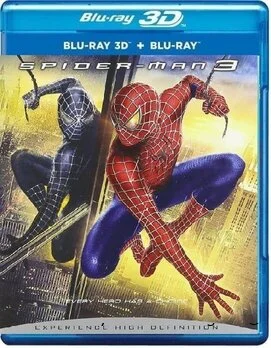 hit
upd
new
Spider-Man 3 3D SBS 2007
Year:

2007

File Size:

17.0 GB

Genre:

Action SBS

Duration:

2h 19 min

IMDB:

6.3

Producer:

Sam Raimi
Film 3D sbs description
It's been five years since Peter realized that "with Great power comes Great responsibility!" and three years since he refused to be a fighter for justice. But now it seems that Peter has perfectly learned to live several lives. He studies well, New York recognized him as a hero, and his relationship with Mary Jane is strong. Peter even intends to propose to her!
But unfortunately, his best friend Harry Osborne still believes that Spider-Man is responsible for the untimely death of his father. Harry intends to take revenge on him in the form of a New Goblin. At the same time, another powerful supervillain known as the Sandman appears on the New York crime scene.
When Spider-Man dons a mysterious black suit, his darker, more vindictive side completely engulfs him. These transformations force him to face the strongest opponent ― himself in the movie Spider-Man 3 3d sbs.
Info Blu Ray half sbs 1920*1080p
Video:
x264 abr @ 15.5 Mb/s
Resolution:
1920*1080px @ 16:9
Video Framerate:
23.976 fps
Audio:
: MLP FBA 16-ch @ 5128kb/s
If you find a problem on the file, please let us know and we will fix it!
How to download 3d sbs movies?
Watch 3D sbs trailer Spider-Man 3 3D SBS 2007
Comments (0)
Leave a comment