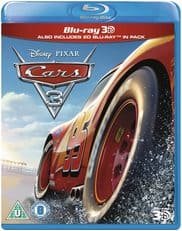 hit
upd
new
Cars 3 3D SBS 2018
Year:

2017

File Size:

6.6 GB

Genre:

Animation SBS

Duration:

1h 42 min

IMDB:

6.8

Producer:

Brian Fee
Cast -
Owen Wilson, Cristela Alonzo, Chris Cooper, Nathan Fillion, Larry the Cable Guy, Armie Hammer, Ray Magliozzi, Tony Shalhoub, Bonnie Hunt
Film 3d sbs description
Cars 3 3d sbs – the third part of the famous cartoon directed by Brian Phi. It's time for new high-tech, and the imperfect racing car Lightning McQueen was left out of business. The new generation of cars that have appeared in the modern racing high-speed world, left no chance of victory for the legendary lightning. However, our hero is a legend. He is not as simple as it seems and is ready to fight. For help, lightning turns to Cruz Ramirez – a talented mechanic who can help the car enter the trend. Cruz loves his job very much and is a true professional in his field. She has the latest equipment to implement a plan to regain leadership for the lightning, and knowledge of the weaknesses of opponents. Cars 3 is not inferior to the previous two parts in terms of emotion, fullness and good humor.
Video:
x264 2pass @ 9091kb/s
Resolution:
1920*808px @ 2.40:1
Video Framerate:
23.976 fps
Audio:
English: DTS @ 1509kb/s
Info Blu Ray half sbs 1920*1080p
Video:
x264 abr @ 15.5 Mb/s
Resolution:
1920*1080px @ 16:9
Video Framerate:
23.976 fps
Audio:
English: DTS @ 1509kb/s: MLP FBA 16-ch @ 5128kb/s
If you find a problem on the file, please let us know and we will fix it!
How to download 3d sbs movies?
Watch 3d sbs trailer Cars 3 3D SBS 2018
Comments (0)
Leave a comment