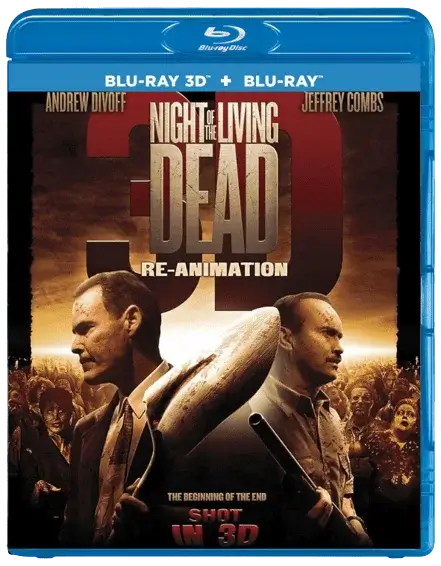 hit
upd
new
Night of the Living Dead: Re-Animation 3D SBS 2012
Year:

2012

File Size:

1.69 GB

Genre:

Action SBS

Duration:

1h 28 min

IMDB:

3,0

Producer:

Jeff Broadstreet
Film 3D sbs description
Night of the Living Dead: Re-Animation 3D unravels a chilling tale within the world of the undead. Gerald Tovar Jr., a funeral home operator in Akron, Ohio, unwittingly inherits a grim legacy from his late father - reanimated corpses of infamous serial killers. When an accidental exposure to a toxic substance brings these corpses back to life with an insatiable hunger for human flesh, chaos erupts within the funeral home.
Gerald, alongside his eclectic team comprising a mortician-in-training, a body snatcher, and a scientist, finds themselves battling not only the relentless zombies but also their own internal conflicts. As the living dead menace spreads, the team faces dire situations, trying to outwit the undead while uncovering dark secrets hidden within their own ranks.
Amidst the horror, they stumble upon a shocking truth - the reanimated corpses may hold the key to a sinister conspiracy involving powerful forces and forbidden experiments. In a nightmarish world teeming with zombies and government plots, they must fight for their lives and uncover the buried truths to survive. Night of the Living Dead: Re-Animation 3D weaves a gripping narrative, combining horror, dark humor, and unexpected twists into a thrilling cinematic experience.
Info Blu Ray half sbs 1920*1080p
Video:
x264 abr @ 15.5 Mb/s
Resolution:
1920*1080px @ 16:9
Video Framerate:
23.976 fps
Audio:
English, German: MLP FBA 16-ch @ 5128kb/s
If you find a problem on the file, please let us know and we will fix it!
How to download 3d sbs movies?
Watch 3D sbs trailer Night of the Living Dead: Re-Animation 3D SBS 2012
Comments (0)
Leave a comment