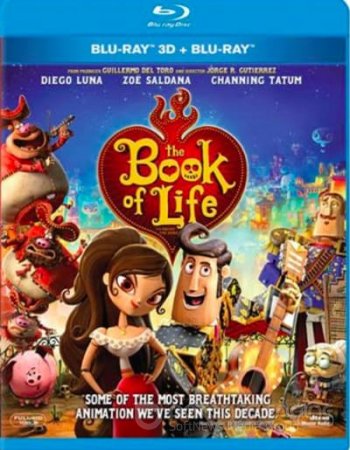 hit
upd
new
The Book of Life 3D SBS 2014
Year:

2014

File Size:

7.6 GB GB

Genre:

Animation SBS

Duration:

1h 35min min

IMDB:

7.3

Producer:

Jorge R. Gutierrez
Film 3D sbs description
In the cartoon The Book of Life 3D SBS, the plot centers on three young inseparable friends - Maria, Joaquin and Manolo. Over time, the children matured, and soon Mary will have to choose with whom of the boys in love with her to connect their fate. By chance, higher powers pay attention to them, and the kind Katrina La Muerta and the malicious Xibalba argue about the choice of the girl. Moreover, the insidious Xibalba gives his favorite Joaquin a head start, making him invulnerable, and on the contrary, he transfers Manolo to the afterlife. The Book of Life 3D is a spectacular animated film that tells about love, friendship, courage and devotion, which even death will not be an obstacle. Mexican cinematographer Guillermo del Toro, working on his gothic horror Crimson Peak, decided to present the world as a producer an animation project of his compatriot, debut director Jorge R. Gutierrez. The cartoon characters are wooden dolls, with the help of which the museum guide tells students about national traditions. Viewers' reviews praise the unexpected visuals and designs, as well as the great soundtrack.
Video:
x264 2pass @ 9091kb/s
Resolution:
1920*808px @ 2.40:1
Video Framerate:
23.976 fps
Audio:
English: DTS @ 1509kb/s
Info Blu Ray half sbs 1920*1080p
Video:
x264 abr @ 15.5 Mb/s
Resolution:
1920*1080px @ 16:9
Video Framerate:
23.976 fps
Audio:
: MLP FBA 16-ch @ 5128kb/s
If you find a problem on the file, please let us know and we will fix it!
How to download 3d sbs movies?
Watch 3D sbs trailer The Book of Life 3D SBS 2014
Comments (0)
Leave a comment