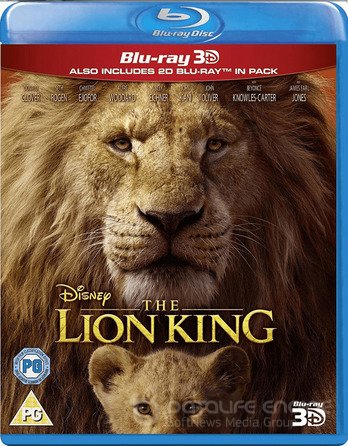 hit
upd
new
The Lion King 3D SBS 2019
Year:

2019

File Size:

9.8 GB

Genre:

Drama SBS

Duration:

1h 58 min

IMDB:

7.1

Producer:

Jon Favreau
Film 3D sbs description
The Lion King famous cartoon now in 3D sbs format Savannah. This world is full of predators: lions, hyenas, hyena dogs hunt ungulates, but the king of animals is a lion. The family of the majestic lion king – Mufasa is a great joy. A son is born, which means an heir –Simba, who must continue the path of the father . But none of the family even knows what fate is in store for him. A realistic animated film in the footsteps of Disney's favorite classic "the lion King" was made by a team of computer graphics virtuosos , led by Director Jon Favreau / the jungle book/. And now the friends of our childhood are back with us in the guise of real animals . Again, as a quarter of a century ago, they yell fervent songs that have already become history for us and again red us of the main things in this life: about family , about friendship, about duty and the meaning of life.
So, baby Simba was taught from birth, all around, that when he grew up, he would become the king of Savannah. So he must be wise, brave, and kind at the same time .However, a series of failures awaited him. Always fearless and majestic Mufasadies , His death and betrayal of his own uncle, who seized power in the pack, breaks Simba'sheart.And it broke. A small, future king, thinking that all the troubles are his fault, decides to escape to nowhere. There, far from home, he will plunge into a fun carefree life with new friends. But our roots always pull us where our home is. Many years later, Simba's homeland was in danger. The beast Kingdom still needs a king who will make fair and wise decisions for all the beasts . One day Simba will remember the way home. This story is perfect for family viewing. watch the animated film the lion King 2019 in high quality in our online cinema. And we guarantee you a lot of positive emotions.
Video:
x264 2pass @ 9091kb/s
Resolution:
1920*808px @ 2.40:1
Video Framerate:
23.976 fps
Audio:
English: DTS @ 1509kb/s
Info Blu Ray half sbs 1920*1080p
Video:
x264 abr @ 15.5 Mb/s
Resolution:
1920*1080px @ 16:9
Video Framerate:
23.976 fps
Audio:
English: DTS @ 1509kb/s: MLP FBA 16-ch @ 5128kb/s
If you find a problem on the file, please let us know and we will fix it!
How to download 3d sbs movies?
Watch 3D sbs trailer The Lion King 3D SBS 2019
Comments (0)
Leave a comment