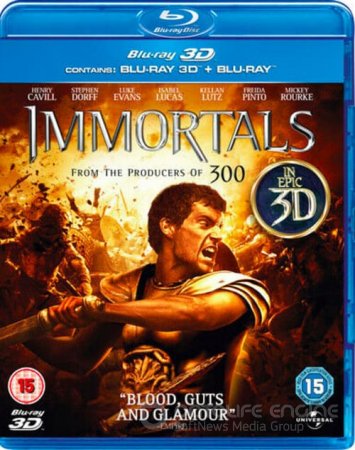 hit
upd
new
Immortals 3D SBS 2011
Year:

2011

File Size:

2 GB GB

Genre:

Fantasy SBS

Duration:

1h 50min min

IMDB:

6

Producer:

Tarsem Singh
Film 3D sbs description
In the movie Immortals 3D SBS, distraught with power, King Hyperion desired to be the sole ruler of the earth. He destroyed the rebellious, and also decided to pacify the gods with the help of the Epirus Bow. By the way, it was the bow of the god of war Ares himself. In addition, Hyperion wants to free the Titans from captivity in Tartarus, and together with them rule the world. It is up to the ordinary farmer to stop the formidable king. Who is this hero?
Theseus lives a quiet life away from global problems and power sharing. But suddenly his family is affected by grief. Theseus also becomes part of a senseless war. He is distinguished by excellent weaponry. An old warrior helps him to improve his skills. He, despite his years, is skilled in battle, and Theseus suspects that Zeus himself is hiding under an old age.
Video:
x264 2pass @ 9091kb/s
Resolution:
1920*808px @ 2.40:1
Video Framerate:
23.976 fps
Audio:
English: DTS @ 1509kb/s
Info Blu Ray half sbs 1920*1080p
Video:
x264 abr @ 15.5 Mb/s
Resolution:
1920*1080px @ 16:9
Video Framerate:
23.976 fps
Audio:
: MLP FBA 16-ch @ 5128kb/s
If you find a problem on the file, please let us know and we will fix it!
How to download 3d sbs movies?
Watch 3D sbs trailer Immortals 3D SBS 2011
Comments (0)
Leave a comment