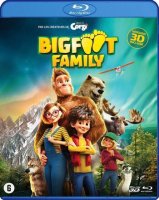 hit
upd
new
Bigfoot Family 3D SBS 2020
Year:

2020

File Size:

9.8 GB

Genre:

Animation SBS

Duration:

1h 29min

IMDB:

5.8

Producer:

Jeremy Degruson, Ben Stassen
Cast -
Jules Medcraft, Kylian Trouillard, Alexis Victor, Marie Chevalot, Frederic Souterelle, Sébastien Desjours, Pierre Tessier, Xavier Fagnon, Clara Quilichini, Lindsey Alena, Dino Andrade, George Babbit, Laila Berzins, Joey Camen, Sandy Fox, James Fredrick, Jessica Gee-George, Grant George
Film 3d sbs description
Each bigfoot family 3d sbs, has some special features, our main characters are the most diverse. The fact is that the head of the family somehow miraculously managed to acquire the abilities of bigfoot, now he understands the animal language and can communicate with them. My son, too, inherited this gift and they live together with animals. In addition to the family, there are also: a big bear, an energetic squirrel and a calm raccoon who has children. They all happily share the same territory. One day, a serious news story about a nature reserve in Alaska was broadcast on TV. They urgently need help and all the actors decide to go there, because who if not them...
Video:
x264 2pass @ 9091kb/s
Resolution:
1920*808px @ 2.40:1
Video Framerate:
23.976 fps
Audio:
English: DTS @ 1509kb/s
How to download 3d sbs movies?
Watch 3d sbs trailer Bigfoot Family 3D SBS 2020
Comments (0)
Leave a comment