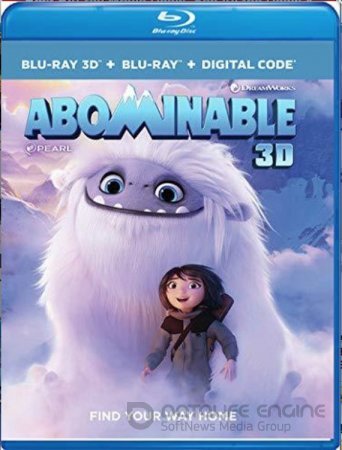 hit
upd
new
Abominable 3D SBS 2019
Year:

2019

File Size:

6.6 GB

Genre:

Animation SBS

Duration:

1h 37 min

IMDB:

7.0

Producer:

Jill Culton, Todd Wilderman
Cast -
Chloe Bennet, Albert Tsai, Tenzing Norgay Trainor, Joseph Izzo, Eddie Izzard, Sarah Paulson, Tsai Chin, Michelle Wong, Rich Dietl, James Hong, Christine Lin, Kym Miller, Jason Ko, Trevor Devall, Karen Huie.
Film 3d sbs description
The plot 3d sds movie Abominable begins with the fact that the baby Bigfoot Yeti escapes from a private laboratory in the businessman Bernyash, located in Shanghai and settles on the roof of one of the high-rise buildings. In this house lives a teenage girl, Lou, who recently lost her father and misses him very much. She's a violinist. And decides that she must work hard to fulfill her father's cherished dream - to travel to countries, but the child's strength is not infinite, from fatigue, she literally falls off her feet and decides to go out on the roof of her house. There they meet the Yeti. The girl, learning that the Yeti lived with his family on mountEverest, decides to help him find his family again. To do this, they and their friends decide to make this long journey together. Whether they succeed or not, you will find out by watching this wonderful cartoon in our online cinema.
Video:
x264 2pass @ 9091kb/s
Resolution:
1920*808px @ 2.40:1
Video Framerate:
23.976 fps
Audio:
English: DTS @ 1509kb/s
Info Blu Ray half sbs 1920*1080p
Video:
x264 abr @ 15.5 Mb/s
Resolution:
1920*1080px @ 16:9
Video Framerate:
23.976 fps
Audio:
English: Dolby Atmos
English: Dolby TrueHD 7.1 (48kHz, 24-bit): MLP FBA 16-ch @ 5128kb/s
How to download 3d sbs movies?
Watch 3d sbs trailer Abominable 3D SBS 2019
Comments (0)
Leave a comment