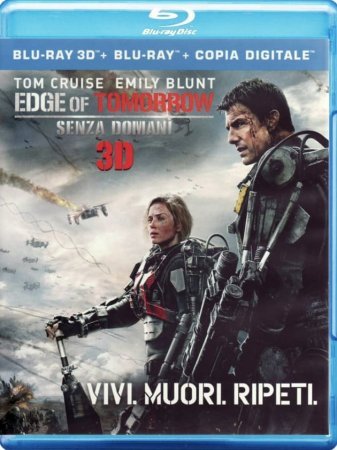 hit
upd
new
Edge of Tomorrow 3D SBS 2014
Year:

2014

File Size:

15.78 GB

Genre:

Action SBS

Duration:

1h 53 min

IMDB:

7.9

Producer:

Doug Liman
Film 3D sbs description
In the movie Edge of Tomorrow 3d sbs, the world that everyone is used to is in serious danger. Earth is almost invaded by alien creatures-an aggressive race of mimics. They are gradually destroying humanity, pushing back and killing anyone who stands in the way. The confrontation seems completely unsuccessful, but the troops do not give up, because there is nowhere to retreat. Millions of people have been destroyed, cities are in ruins, and the army is using up its last reserves of weapons and is getting weaker every day. Even the new high-tech armor, which the monsters easily tear apart, hitting the target to death, does not help.
In the thick of things gets the main character of the film – Bill Cage. He is not an experienced fighter, but he will have to learn the art of combat directly on the battlefield. Moreover, he has enough time for this. Already in the first battle, the man manages to kill one of the serious opponents – an alien of the "Alpha" category. However, in return, Bill gives his own life, and from this moment the most interesting begins. Somehow, the hero was given a unique ability of the monster-the fighter got into a time loop. Now he returns again and again at the same time after another death.
Video:
x264 2pass @ 9091kb/s
Resolution:
1920*808px @ 2.40:1
Video Framerate:
23.976 fps
Audio:
English: DTS @ 1509kb/s
Info Blu Ray half sbs 1920*1080p
Video:
x264 abr @ 15.5 Mb/s
Resolution:
1920*1080px @ 16:9
Video Framerate:
23.976 fps
Audio:
English, French, Chinese, Spanish, Portuguese, Thai: MLP FBA 16-ch @ 5128kb/s
If you find a problem on the file, please let us know and we will fix it!
How to download 3d sbs movies?
Watch 3D sbs trailer Edge of Tomorrow 3D SBS 2014
Comments (0)
Leave a comment