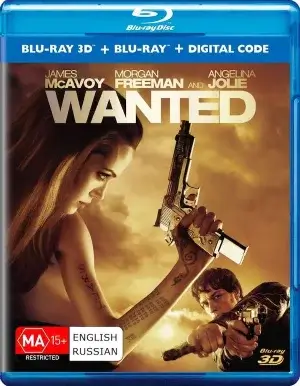 hit
upd
new
Wanted 3D SBS 2008
Year:

2008

File Size:

16.1 GB

Genre:

Action SBS

Duration:

1h 50min

IMDB:

6.7

Producer:

Timur Bekmambetov
Cast -
Angelina Jolie, James McAvoy, Morgan Freeman, Terence Stamp, Thomas Kretschmann, Common, Kristen Hager
Film 3d sbs description
25-year-old Wesley Gibson was recently the greyest office rat on the whole planet. The boss was constantly dissatisfied with him, the bride cheated on him every day, and everyone around was convinced that he was doomed to a miserable existence and death in his own time all alone. But all this continued until he met a charming beauty named Fox. 
After learning that the hero's father was killed, the charming Fox invites Wesley to join the Brotherhood. This is a secret society of murderers, aiming to free the world from evil. Driven by the goal of avenging his father, Wesley joins the Brotherhood. 
Brilliant mentors–including the mysterious brotherhood leader Sloan– help Wesley master the skills he has dreamed of all his life. A talented student turns into a furious and ruthless killing machine, destroying one scoundrel after another.
However, soon the newly-minted ruler of justice begins to realize that his dangerous allies are not such unshakable defenders of truth and justice. It also becomes clear to him that for a person who brings death every day, the most difficult thing can be control over his own life.
"Wanted" 3d sbs is a spectacular adventure film based on a series of graphic novels by Mark Millar.
Info Blu Ray full sbs 3840*1080p
Video:
x264 abr @ 15.5 Mb/s
Resolution:
3840*1080px @ 32:9
Video Framerate:
23.976 fps
Audio:
English, Russian: MLP FBA 16-ch @ 5128kb/s
If you find a problem on the file, please let us know and we will fix it!
How to download 3d sbs movies?
Watch 3d sbs trailer Wanted 3D SBS 2008
Comments (0)
Leave a comment