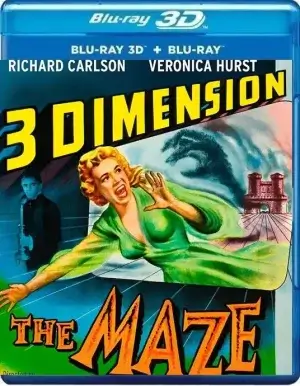 hit
upd
new
The Maze 3D SBS 1953
Year:

1953

File Size:

5.5 GB

Genre:

Horror SBS

Duration:

1h 20min

IMDB:

5.8

Producer:

William Cameron Menzies
Cast -
Richard Carlson, Veronica Hurst, Katherine Emery, Michael Pate, John Dodsworth, Hillary Brooke
Film 3d sbs description
Immediately after the engagement with the beauty Kitty, Gerald receives a letter asking him to come to his ancestral Scottish castle. Gerald leaves and disappears for a few weeks. After a while, he still makes himself felt — he sends Kitty a letter in which he informs about the breakup of the engagement and asks her to forget about him. Kitty, however, does not give up — in the company of her aunt, she flies to Scotland, finds the same castle and discovers that during this time Gerald has aged terribly and turned into a real paranoid. Is it possible that the creepy stone maze located next to the castle is somehow connected with all this? Download and watch "The Maze" 3d sbs. 
Info Blu Ray half sbs 1920*1080p
Video:
x264 abr @ 15.5 Mb/s
Resolution:
1920*1080px @ 16:9
Video Framerate:
23.976 fps
Audio:
English: MLP FBA 16-ch @ 5128kb/s
If you find a problem on the file, please let us know and we will fix it!
How to download 3d sbs movies?
Watch 3d sbs trailer The Maze 3D SBS 1953
Comments (0)
Leave a comment