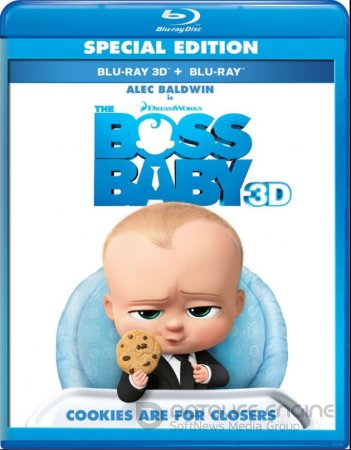 hit
upd
new
The Boss Baby 3D SBS 2017
Year:

2017

File Size:

5.5 GB

Genre:

Animation SBS

Duration:

1h 37min

IMDB:

6,3

Producer:

Tom McGrath
Cast -
Alec Baldwin, Steve Buscemi, Jimmy Kimmel, Lisa Kudrow, Tobey Maguire, Miles Bakshi, James McGrath, Conrad Vernon, ViviAnn Yee, Eric Bell Jr., David Soren, Edie Mirman, James Ryan, Walt Dohrn, Jules Winter
Film 3d sbs description
In film The Boss Baby 3D SBS With the appearance of a younger brother in the family of Tim Templeton, everything has changed dramatically: it seems that the baby is not like other children and is about to realize some terrible plan.The boy begins to closely observe the child and realizes in the end that a new family member was really sent not at all to please the parents.Due to jealousy of his parents, Tim tries in every possible way to get rid of the child, but eventually realizes that the baby will only leave when he fulfills his plan.
The baby boss is really different from other babies.He is quite small, but he already knows how to speak, read and even run a business.His lexicon contains the words: "protocol", "corporation", "indexation".He clearly knows that his mission is not to let the villains destroy love in the world.And he sees the danger in puppies.Why does the baby dislike little dogs so much?Maybe he's not saying something after all?
Video:
x264 2pass @ 9091kb/s
Resolution:
1920*808px @ 2.40:1
Video Framerate:
23.976 fps
Audio:
English: DTS @ 1509kb/s
Info Blu Ray half sbs 1920*1080p
Video:
x264 abr @ 15.5 Mb/s
Resolution:
1920*1080px @ 16:9
Video Framerate:
23.976 fps
Audio:
English: DTS @ 1509kb/s: MLP FBA 16-ch @ 5128kb/s
If you find a problem on the file, please let us know and we will fix it!
How to download 3d sbs movies?
Watch 3d sbs trailer The Boss Baby 3D SBS 2017
Comments (0)
Leave a comment