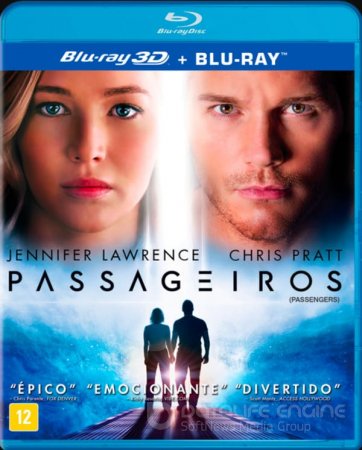 hit
upd
new
Passengers 3D SBS 2016
Year:

2016

File Size:

8.7 GB

Genre:

Drama SBS

Duration:

1h 56min

IMDB:

7

Producer:

Morten Tildum
Cast -
Jennifer Lawrence, Chris Pratt, Michael Sheen, Lawrence Fishburne, Andy Garcia, Vince Foster, Kara Michelle Wilder, Conor Brophy, Julie Cerda, Aurora Perrino
Film 3d sbs description
In the film Passengers 3D SBS, the Starship Avalon spacecraft transports 5259 people to a colony on a distant planet, immersed in many years of sleep. The journey takes 120 years, but as a result of a malfunction, two anabiotic capsules prematurely depressurize. The two passengers wake up and realize that they are locked on a ship, with another 90 years of travel left to their destination. Aurora Dan (Jennifer Lawrence) is a New York-based writer with an interest in space travel. Jim Preston (Chris Pratt) is a mechanical engineer from Denver who wanted to leave Earth and bought a ship ticket. They soon discover that the malfunction that caused them to wake up ahead of schedule is not the only problem threatening the huge spacecraft. Trying to find a way out, young people get closer and soon realize that they are in love with each other. Together they will have to save the ship and its passengers from disaster.
Video:
x264 2pass @ 9091kb/s
Resolution:
1920*808px @ 2.40:1
Video Framerate:
23.976 fps
Audio:
English: DTS @ 1509kb/s
Info Blu Ray half sbs 1920*1080p
Video:
x264 abr @ 15.5 Mb/s
Resolution:
1920*1080px @ 16:9
Video Framerate:
23.976 fps
Audio:
: MLP FBA 16-ch @ 5128kb/s
How to download 3d sbs movies?
Watch 3d sbs trailer Passengers 3D SBS 2016
Comments (0)
Leave a comment