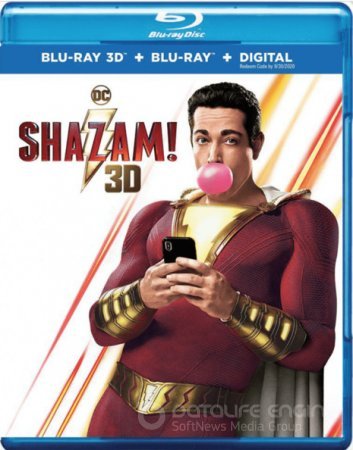 hit
upd
new
Shazam 3D SBS 2019
Year:

2019

File Size:

13.1 GB

Genre:

Adventure SBS

Duration:

2h 12 min

IMDB:

7.3

Producer:

David F. Sandberg
Film 3D sbs description
In Shazam 3d sbs film director David F. Sandberg tried to reveal the difficulties of superhero life and transition age. In the film, one role for two is played by Zachary levy ("Klava, come on!", "Alvin and the chipmunks 2") and Asherangel ("Andy Mac").
The plot of the 3d sbs film reveals the inner tragedy of a teenager Billy Betson, who lost his mother in childhood and remains an orphan. A teenager with a rather complex character does not get along in any family. And he doesn't really want to let anyone into his world. But one day in another foster family, he comes to the defense of his named brother Freddie. The boy is very sociable, but the birth defect of a limp makes him the object of ridicule of other children on the street. A good deed is accidentally noticed by a magician who was looking for someone to pass on his knowledge to. And the complex teenager Billy becomes the recipient of magic power. By saying "Shazam" Billy becomes a superhero at any moment. But what to do with this new ability, the teenager does not yet know. About the adventures that await a teenager, you can watch in our online cinema. We guarantee the quality of the film.
Video:
x264 2pass @ 9091kb/s
Resolution:
1920*808px @ 2.40:1
Video Framerate:
23.976 fps
Audio:
English: DTS @ 1509kb/s
Info Blu Ray full sbs 3840*1080p
Video:
x264 abr @ 15.5 Mb/s
Resolution:
3840*1080px @ 32:9
Video Framerate:
23.976 fps
Audio:
English, French, Chinese, Spanish, Hindi, Polish, Russian, Tamil, Telugu: MLP FBA 16-ch @ 5128kb/s
If you find a problem on the file, please let us know and we will fix it!
How to download 3d sbs movies?
Watch 3D sbs trailer Shazam 3D SBS 2019
Comments (0)
Leave a comment