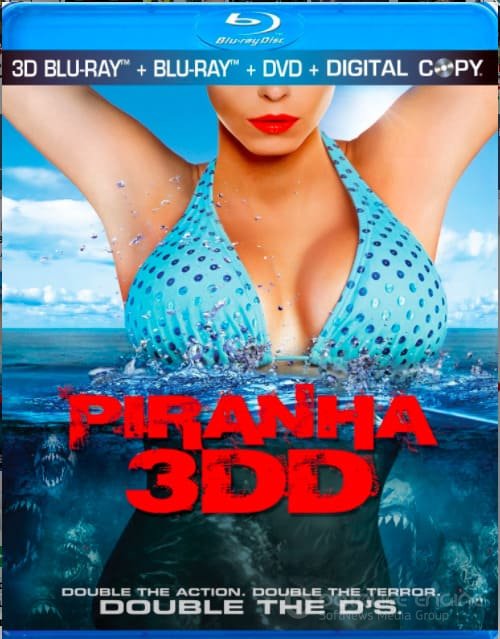 hit
upd
new
Piranha 3DD SBS 2012
Year:

2012

File Size:

9.2 GB

Genre:

Comedy SBS

Duration:

1h 23min

IMDB:

4

Producer:

John Gulager
Cast -
Danielle Panabaker, Matt Bush, David Cockner, Chris Zilka, Katrina Bowden, Jean-Luc Bilodeau, David Hasselhoff, Paul Scheer, Wing Rhames, Christopher Lloyd
Film 3d sbs description
The launch of Wilderness Waters has been a source of joy to many visitors. Sun, entertainment, clean water filling - a paradise of artificial origin attracted crowds of tourists. And who could have guessed that an exciting pastime would be the last day of life for many? After infiltrating water systems and sewers, swarms of the vicious, predatory Piranha 3DD SBS enter the entertainment center's pools. Bathing becomes fatally dangerous, but unfortunately some victims of toothy killers realize it too late.

The film combines situations and plots characteristic of both horror films and comedies. Beautiful scenes of luxurious relaxation give way to bloody spectacles, the lightness of a summer day - to the cruelty of killings by fish. Director John Gulager managed to create an original bouquet from different genres, offering the viewer a spectacular and catchy movie that causes an adrenaline rush.
Video:
x264 2pass @ 9091kb/s
Resolution:
1920*808px @ 2.40:1
Video Framerate:
23.976 fps
Audio:
English: DTS @ 1509kb/s
If you find a problem on the file, please let us know and we will fix it!
How to download 3d sbs movies?
Watch 3d sbs trailer Piranha 3DD SBS 2012
Comments (0)
Leave a comment