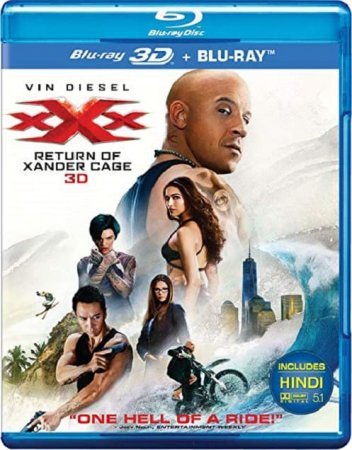 hit
upd
new
xXx: Return of Xander Cage 3D SBS 2017
Year:

2017

File Size:

18.86 GB

Genre:

Action SBS

Duration:

1h 47 min

IMDB:

5.2

Producer:

D.J. Caruso
Cast -
Vin Diesel, Donnie Yen, Deepika Padukone, Kris Wu, Ruby Rose, Tony Jaa, Nina Dobrev, Rory McCann, Toni Collette, Samuel L. Jackson, Ice Cube, Hermione Corfield, Tony Gonzalez, Michael Bisping
Film 3d sbs description
In the movie xXx: Return of Xander Cage 3d sbs, eight long years pass. It comes as a surprise to many that Cage, who died earlier, is alive and well. Moreover, he is entrusted with a new top-secret case. Pandora's Box-a weapon that has a huge radius of destruction when detonated. The agent needs to find this dangerous thing and provide it to the NSA. Only Xander isn't the only one who wants the box. A well-known mobster named Xiang is hunting for the same item. But the main characters have different goals. Which of them will win, and at what cost?
Info Blu Ray half sbs 1920*1080p
Video:
x264 abr @ 15.5 Mb/s
Resolution:
1920*1080px @ 16:9
Video Framerate:
23.976 fps
Audio:
English, Spanish, French, Hindi, Italian, Japanese: MLP FBA 16-ch @ 5128kb/s
How to download 3d sbs movies?
Watch 3d sbs trailer xXx: Return of Xander Cage 3D SBS 2017
Comments (0)
Leave a comment