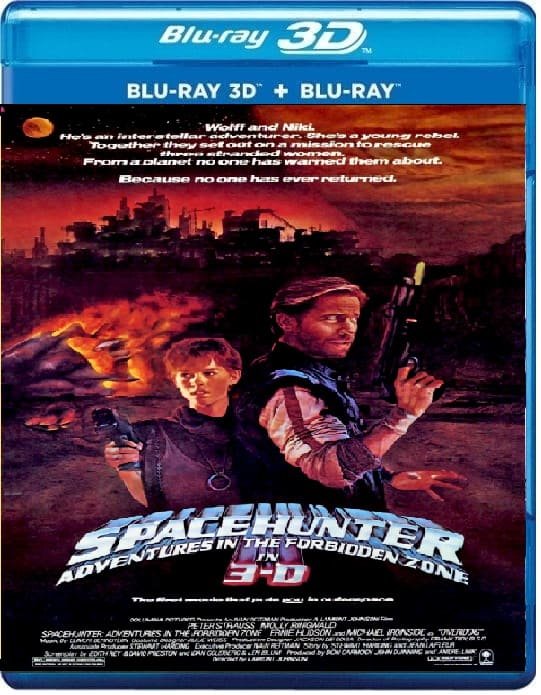 hit
upd
new
Spacehunter: Adventures in the Forbidden Zone 3D SBS 1983
Year:

1983

File Size:

14.5 GB

Genre:

Action SBS

Duration:

1h 30min

IMDB:

5.5

Producer:

Lamont Johnson
Cast -
Peter Strauss, Molly Ringwald, Ernie Hudson, Andrea Marcovicci, Michael Ironside, Beeson Carroll, Hrant Alianak, Deborah Pratt, Aleisa Shirley
Film 3d sbs description
Distant future. The passenger space liner crashes. All are killed, except for three girls, who, a minute before the explosion, manage to leave the doomed ship in a rescue shuttle. Following the program laid down in it, the shuttle independently searches for a planet for landing. This planet becomes Terra-11, the atmosphere of which is similar to that of the Earth.
From the news bulletin, space hunter Wolfe learns of the shipwreck and the landing of the surviving passengers.
As a result of the analysis of the requested information, it turns out that for many years its population was seized by the plague. The medical expedition sent to the planet could not cope with the raging disease and Terre- 11 was assigned the status of a restricted area. Wolfe doubts whether it is worth risking his head and flying to a plagued planet, but a huge reward is assigned for saving the girls in the movies Spacehunter: Adventures in the Forbidden 3d sbs.
Video:
x264 2pass @ 9091kb/s
Resolution:
1920*808px @ 2.40:1
Video Framerate:
23.976 fps
Audio:
English: DTS @ 1509kb/s
If you find a problem on the file, please let us know and we will fix it!
How to download 3d sbs movies?
Watch 3d sbs trailer Spacehunter: Adventures in the Forbidden Zone 3D SBS 1983
Comments (1)
Leave a comment