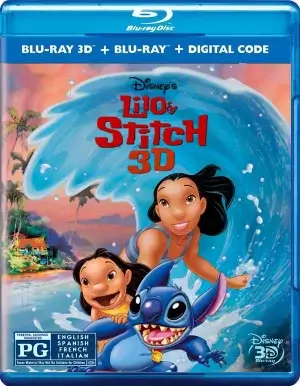 hit
upd
new
Lilo and Stitch 3D SBS 2002
Year:

2002

File Size:

7.7 GB

Genre:

Animation SBS

Duration:

1h 25min

IMDB:

7.3

Producer:

Dean DeBlois, Chris Sanders
Cast -
Daveigh Chase, Chris Sanders, Tia Carrere, David Ogden Stiers, Kevin McDonald, Ving Rhames
Film 3d sbs description
Lilo is a little girl living in Hawaii. She is an orphan and lives with her older sister Nani. Lilo loves all animals, but most of all she made friends with a dog named Stitch, who is actually not a dog at all, but a disguised alien.
It was like this: a certain criminal named Stitch was transported to an intergalactic prison, but he managed to escape and land on Earth, where he met Lilo 3d sbs. And then Stitch pretended to be a dog in order to escape from the pursuit of the intergalactic police. Now Stitch is learning what he wasn't taught—caring for others.
Info Blu Ray full sbs 3840*1080p
Video:
x264 abr @ 15.5 Mb/s
Resolution:
3840*1080px @ 32:9
Video Framerate:
23.976 fps
Audio:
English, Spanish, French, Italian: MLP FBA 16-ch @ 5128kb/s
If you find a problem on the file, please let us know and we will fix it!
How to download 3d sbs movies?
Watch 3d sbs trailer Lilo and Stitch 3D SBS 2002
Comments (0)
Leave a comment