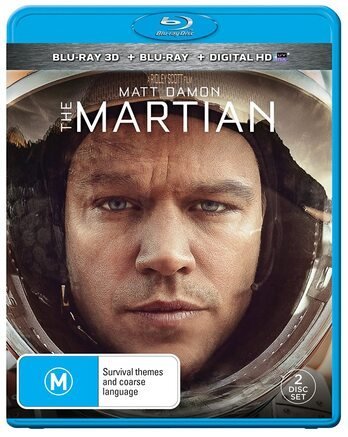 hit
upd
new
The Martian 3D SBS 2015
Year:

2015

File Size:

24.27 GB

Genre:

Adventure SBS

Duration:

2h 24 min

IMDB:

8.0

Producer:

Ridley Scott
Cast -
Matt Damon, Jessica Chastain, Chiwetel Ejiofor, Kristen Wiig, Jeff Daniels, Michael Pea, Sean Bean, Kate Mara, Sebastian Stan, Aksel Hennie.
Film 3d sbs description
The crew of the Ares-3 Mars mission is forced to urgently return to their home planet due to a sandstorm that has risen on Mars. In the process of evacuation, the astronauts lose one of their colleagues — Mark Watney. However, Mark does not die, he soon comes to his senses and finds that he was left completely alone. The connection with the Earth is lost, and the hero only has to survive on an alien planet, in the movie The Martian 
Info Blu Ray half sbs 1920*1080p
Video:
x264 abr @ 15.5 Mb/s
Resolution:
1920*1080px @ 16:9
Video Framerate:
23.976 fps
Audio:
English, Spanish, French, Portuguese: MLP FBA 16-ch @ 5128kb/s
How to download 3d sbs movies?
Watch 3d sbs trailer The Martian 3D SBS 2015
Comments (0)
Leave a comment