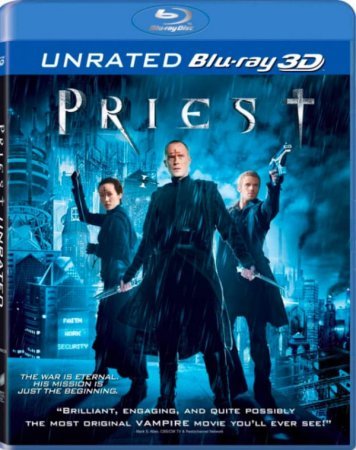 hit
upd
new
Priest 3D SBS 2011
Year:

2011

File Size:

15.94 GB

Genre:

Horror SBS

Duration:

1h 27 min

IMDB:

5.7

Producer:

Scott Charles Stewart
Cast -
Paul Bettani, Carl Urban, Cam Jigande, Maggie Kew, Lily Collins, Brad Durif, Stephen Moyer, Christopher Plummer, Alan Dale, Madhen Amik
Film 3d sbs description
The ancient war of humans against vampires led to the destruction of the world. The land, once colorful and diverse, has turned into a post-apocalyptic desert, where cities are scattered. But it is worth noting that the vampires were defeated and now few of them are in carefully guarded reservations. Warriors who were trained from birth to fight fanged killers are no longer needed at all, they have to adapt to a peaceful life among people. All power in the cities has long belonged to the church, religion is the most important and integral part of life.

One day, somehow escaped from the protection of the vampires, kidnap the niece of one of the pastors (this is what the warriors of the church were called). Having lost his brother and daughter-in-law at once, the fighter comes to the authorities with a request to allow him to go out again to hunt for bloodthirsty creatures. But he gets a hard refusal, because no one believes that the war has started again. Then the Priest 3d sbsundertakes to act independently.
Info Blu Ray half sbs 1920*1080p
Video:
x264 abr @ 15.5 Mb/s
Resolution:
1920*1080px @ 16:9
Video Framerate:
23.976 fps
Audio:
English, Czech, Hungarian, Polish, Russian, Turkish, Ukrainian, Hindi, Spanish, French: MLP FBA 16-ch @ 5128kb/s
How to download 3d sbs movies?
Watch 3d sbs trailer Priest 3D SBS 2011
Comments (0)
Leave a comment