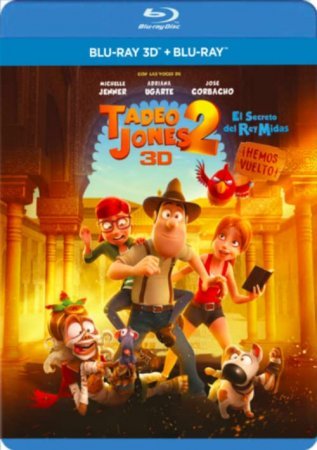 hit
upd
new
Tadeo Jones 2: El secreto del Rey Midas 3D SBS 2017
Year:

2017

File Size:

11.10 GB

Genre:

Animation SBS

Duration:

1h 25 min

IMDB:

6.2

Producer:

David Alonso, Enrique Gato
Cast -
Michelle Henner, Adriana Ugarte, Oscar Barberan, Luis Posada, Miguel Angel Henner, Jose Corbacho, Roser Bataglia, Rafael Calvo, David Brau, Masumi Mutsuda
Film 3d sbs description
The animated film Ted-the traveler and the secret of King Midas 3d sbs, tells the young viewer about the adventures of the hapless boy Ted. He was an architect, but he met a girl, Sarah, and then his life changed. She is a professional archaeologist. For her, the most interesting pastime is to search for lost treasures.
Ted realizes that he, too, enjoys traveling, exploring, and adventure, although he is hardly too lucky. But after a series of adventures, Ted had to return to everyday life, and he began to feel sad. The boy realized that he fell in love with Sarah, but he is shy to tell her about it.
After receiving a message from Sarah asking him to come to her in Las Vegas, the guy was very happy and immediately set off. It turns out that Sarah found an ancient document. It tells of the treasures of King Midas, who was able to use an amulet to turn everything he touched into gold. The girl told about the discovery and presented the found manuscript at the exhibition. Naturally, this interested the villains, and one of them, the rich Rackham, kidnapped the girl. He wanted Sarah to lead him to the treasure. The villain dreams of using the amulet to achieve unprecedented wealth and power.
Video:
x264 2pass @ 9091kb/s
Resolution:
1920*808px @ 2.40:1
Video Framerate:
23.976 fps
Audio:
English: DTS @ 1509kb/s
Info Blu Ray half sbs 1920*1080p
Video:
x264 abr @ 15.5 Mb/s
Resolution:
1920*1080px @ 16:9
Video Framerate:
23.976 fps
Audio:
Spanish, English, Russian: MLP FBA 16-ch @ 5128kb/s
If you find a problem on the file, please let us know and we will fix it!
How to download 3d sbs movies?
Watch 3d sbs trailer Tadeo Jones 2: El secreto del Rey Midas 3D SBS 2017
Comments (0)
Leave a comment