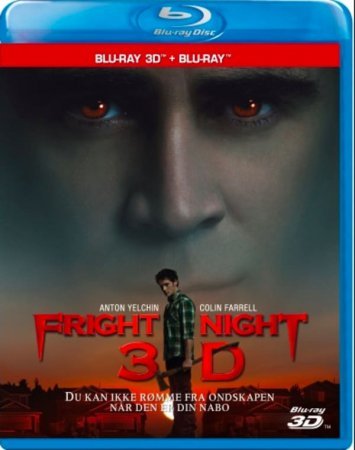 hit
upd
new
Fright Night 3D SBS 2011
Year:

2011

File Size:

15.95 GB

Genre:

Horror SBS

Duration:

1h 45 min

IMDB:

6.3

Producer:

Craig Gillespie
Cast -
Colin Farrell, Anton Yelchin, Toni Collette, David Tennant, Imogen Poots, Christopher Mintz-Plasse, Dave Franco, Reid Ewing, Will Denton, Sandra Vergara
Film 3d sbs description
In the movie Fright Night 3 d sbs, Charlie Brewster is in his senior year of high school and is at the peak of his popularity. Everyone loves him, he has the best girlfriend and an impeccable reputation. Charlie has become so cool that he even avoids meeting his once-best friend Ed. One day, a former nerd friend asks Charlie to help fight a vampire who has settled in the neighborhood. Charlie doesn't believe Ed, but is forced to do his own investigation when Ed goes missing.

At first glance, Jerry's new neighbor seemed like a nice and friendly guy. After a while, Charlie notices that this guy is acting strangely. He realizes that Ed was right, and there really is a vampire on the streets of their neighborhood. Now only Charlie sees that the neighbor is dangerous. Everyone else doesn't notice.
Info Blu Ray half sbs 1920*1080p
Video:
x264 abr @ 15.5 Mb/s
Resolution:
1920*1080px @ 16:9
Video Framerate:
23.976 fps
Audio:
English, Italian, Spanish, Russian: MLP FBA 16-ch @ 5128kb/s
How to download 3d sbs movies?
Watch 3d sbs trailer Fright Night 3D SBS 2011
Comments (0)
Leave a comment