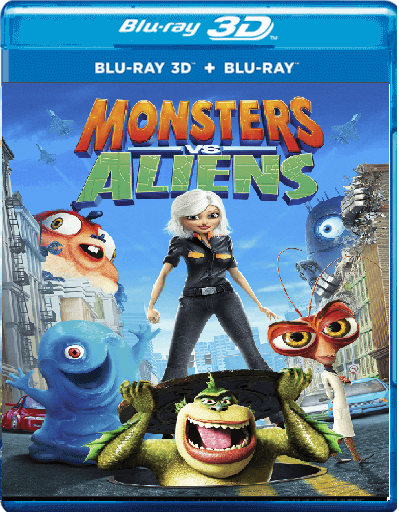 hit
upd
new
Monsters vs. Aliens 3D SBS 2009
Year:

2009

File Size:

19.53 GB

Genre:

Animation SBS

Duration:

1h 34min

IMDB:

6.4

Producer:

Rob Letterman, Conrad Vernon
Cast -
Reese Witherspoon, Rainn Wilson, Stephen Colbert, Seth Rogen, Hugh Laurie, Will Arnett, Kiefer Sutherland, Paul Rudd, Julie White, Jeffrey Tambor
Film 3d sbs description
Susan Murphy, a girl from California, is hit by a meteorite full of rubbish from space right on her wedding day, as a result of which she suddenly begins to grow and grows to fifteen meters. Alarmed by the appearance of a new monster, the military immediately get down to business: Susan is captured and taken to a secret government base.
There she is renamed Gigantica and locked up along with other monsters: the ingenious, but insect-headed Doctor of Science Cockroach; a brutal fishman named The Missing Link; jelly-like and unkillable B.O.Bom and a hundred-meter Insectosaurus. True, their imprisonment does not last long: an alien robot attacks the Earth, and the desperate President, yielding to the persuasions of General Voyaker, sends a motley team of monsters to save the planet from imminent death in the cartoon Monsters vs. Aliens 3d SBS.
Video:
x264 2pass @ 9091kb/s
Resolution:
1920*808px @ 2.40:1
Video Framerate:
23.976 fps
Audio:
English: DTS @ 1509kb/s
Info Blu Ray full sbs 3840*1080p
Video:
x264 abr @ 15.5 Mb/s
Resolution:
3840*1080px @ 32:9
Video Framerate:
23.976 fps
Audio:
: MLP FBA 16-ch @ 5128kb/s
If you find a problem on the file, please let us know and we will fix it!
How to download 3d sbs movies?
Watch 3d sbs trailer Monsters vs. Aliens 3D SBS 2009
Comments (0)
Leave a comment